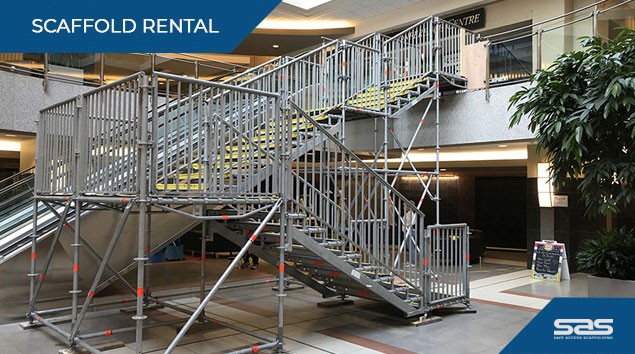 Scaffold Rental
Safe Access Scaffold provides scaffold rentals at an affordable price, helping your projects remain on budget and on schedule. Our Calgary-based full-service scaffold company has an exhaustive list of scaffolding materials for you to choose from, allowing even the most complex set ups to be easily completed.
Contact us today to find out more about our cost-effective scaffold rental service that can help you execute your next project seamlessly.
---
Our Equipment, Your Expertise
Safe Access Scaffold has all the ladders, clamps, decks, tubes, and beams you need for your next scaffold project. We keep an extensive inventory of scaffolding materials on hand at all times, so you never have to worry that the critical piece you need is in stock. Our 24/7 availability also allows you to get the scaffolding you need at a moment's notice should an emergency arise. Because in times like that, every minute counts.

You Won't Overpay with Our Prorated Daily Rentals
Our scaffolding rentals are prorated daily up until the point you return the materials, allowing you and your company to save money. We also don't charge you anything until after the first month of your rental has concluded, giving you and your company greater financial flexibility at the beginning of your project.

The Guidance You Need to Be Successful and Efficient
Our experienced inventory specialists are on hand to consult and guide you through the scaffolding rental experience. Whether it's your first time or fiftieth renting scaffolding products, our personnel will help assess your access needs and suggest which products will allow you to be as efficient and effective as possible. You'll never end up renting materials that you don't use, helping cut your costs even further. All our products exceed or meet industry safety standards as well, and no rental project is too big or too small for us here at SAS.

Making Your Life Easier with Our Convenient Pickup and Drop Off Location
Our centrally located yard makes it easy for you and your workers to pick up and drop off our scaffolding materials you've rented. It features a sizeable loading zone that allows your drivers to get in and out easily after loading up the equipment. With our central location, you won't ever find yourself on the opposite side of the city, costing you both time and money.