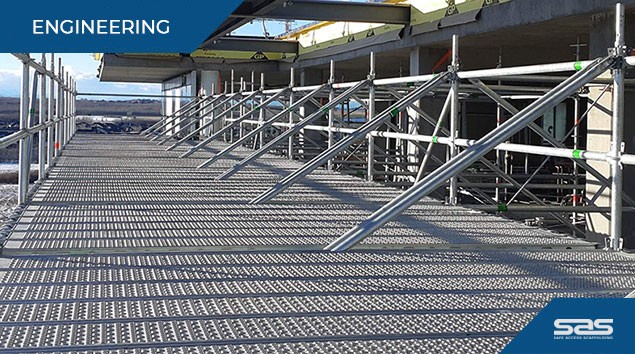 Engineering
Safe Access Scaffold based out of Calgary has an experienced in-house design and engineering team that you can utilize for your next scaffold or temporary access project. Using advanced drafting and design software, our full-service scaffold company has the tools to set up a scaffold system that is safe, effective, and efficient.
Contact SAS today to find out more about our scaffold engineering service and to receive a free estimate for your upcoming residential or commercial project.
---
Experienced Engineers Solely Focused on Scaffold
Our engineers are solely focused on designing scaffold or temporary access configurations, making them extremely specialized in what they do. With their years of experience and familiarity with complex or uncommon scaffold setups, they can help your company come up with the perfect plan to maximize your materials and minimize your overall cost.

Cost-Effective Custom Scaffold Solutions for Any Project
When you hire SAS as your scaffold engineer and design consultant, you're guaranteeing custom scaffold solutions that are applicable to the specific residential or commercial project you have at hand. We know that no two temporary access or scaffold jobs are the same, and as such, each one requires a customized and tailored approach to how the scaffolding is designed and configured. Because we aren't an engineering firm, we also don't have the high overhead that is associated with such outfits. This helps keep our engineering costs down, passing along the savings to you.

Complete Transparency, Unparalleled Results
Our in-depth blueprints allow you to see exactly what the scaffold setup for your project will look like well before installation day arrives. This allows you and your company to be a part of the design process and bring up any concerns, questions, or modifications you may have. Our engineers will work closely with you to solve any temporary access problems a specific site may bring with it, using their extensive experience to find safe and efficient solutions.

Allowing Your Company to Focus on the Big Picture
By using our scaffold engineering service, you'll have one less thing to worry about with your next residential or commercial construction or renovation project. Our design team will put together a comprehensive scaffold blueprint that makes it easy for your workers to install the temporary structure, and they're always on call to answer any questions you may have during installation or tear down.