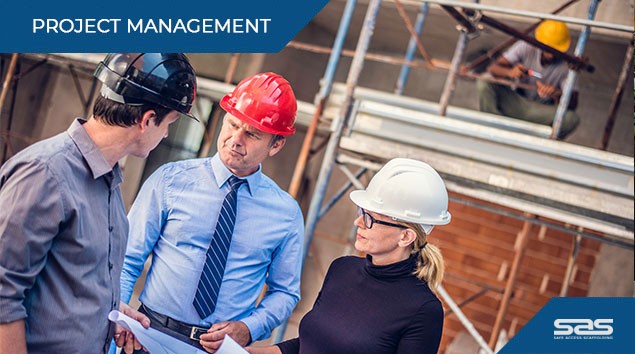 Project Management
Our full-service scaffold company in Calgary can handle all the details and logistics of your next scaffold or temporary access project with our project management service. Safe Access Scaffold has over 60 years of combined experience executing scaffold projects that run the gamut in terms of size, scope, and complexity and can be trusted to get the job done right and on time.
Contact us today to learn more about our project management service and how it can help set your next residential or commercial project up for success.
---
Everything You Need for Your Next Scaffold Project
By engaging SAS to oversee and plan your next scaffold or temporary access project, you can rest assured that everything will be taken care of so you can focus on the bigger aspects of your commercial or residential construction or renovation job. Our project managers have been involved in over 200 projects, gaining invaluable expertise and experience along the way. This allows them to efficiently oversee your workers from design to completion, in a way that is fair, honest, and accountable.

Down-to-Earth and Down to Business
Our project managers never approach a job with a mindset of superiority and are extremely down-to-earth individuals who know how to get the most out of those working below them. That being said, they also know what it takes to get a job done on time and on budget and are not afraid to cause some waves if expectations are not being met. This dualistic approach to project management allows us to provide our customers and clients with the best of the both worlds, and deliver results that truly exceed expectations.

Taking the Stress and Worry Off Your Plate
Using Safe Access Scaffold to manage your next project lets you remove the stress and worry of all the minutiae that is inherent with a construction or renovation project completely off your plate. This will let you and your company focus on the more important aspects of the job as we do what we do best. By handling the logistical and administrative portions of the project, our highly skilled and experienced project managers will make your life a lot easier.

New Solutions to Old Problems
Having been in the scaffolding business for over 60 years combined, SAS has the collective project management skills your company needs to overcome old problems with new, fresh solutions. Our project managers continually educate themselves on the latest developments and best practices that are available when it comes to managing construction or renovation jobs. They also perform a roundtable debrief together following the successful completion of any project, so lessons learned and new approaches or solutions to old problems are shared widely and well known.